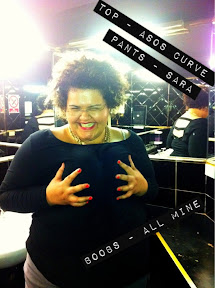 So in a cruel twist of fate, I had a job interview on a Friday at my workplace about half an hour before the end of the business day and my friggin' work week! and also straight afterwards, I had a work function, so I had no opportunity to change , so I had the modern day female dilemma!
Can I look like a good time party girl? and also look employable?
The answer is usually no (unless you are a Hilton/ Lohan/ Kardashian) but gosh darn it I gave it a good old college try!
So the centre of the whole outfit was the ASOS curve body-con slashed back dress thingy. When saw it I loved it, I loved it so much I bought it in all three colours, as I knew they were the perfect long sleeve t's for me for the coming year. You see ASOS curve is a great brand and the clothes are cute however if you are over 5'10 and don't like or don't require to show off your pubic mound for work the dresses are really just cute tunics or tops, oh well I still look hot.
Oh yeah this photo was taken in the toilets of a Strip Club whilst I was a touch tipsy, I am after all one classy lassy.
P.S thank you for comments and stuff, it has made my week.